Discussion Starter
•
#1
•
Hi fellow radsters!
Thought I'd get involved and post up my H22 civic build.
Basically it's a 1996 Honda Civic. This was the 'warm' ESi version, with a 1.6 Single Cam VTEC, with 124bhp, 100lb/ft and 7200rpm redline.
I decided that wasn't nearly enough, so out went the D16Z6 engine, and in its place, a H22A2 engine from a Honda Prelude VTi. This is a 2.2 DOHC VTEC with 195bhp, 170lb/ft and an 8200rpm redline.
Involved in the swap:
Custom engine mounts
Custom drive shafts
Custom exhaust
Chopped wiring loom
Crowbar
Mallet
Blood
Swearing
I shan't start from the very beginning, I'll pick up from near the end (it's been a long process because the car lives at home near peterborough, and I reside near Hertford because of work)
So here we pick up the story after I've done the first install of the engine, spliced the wiring loom together and had it running (ish). This was my "final push" weekend:
Start of Day 1 - Sat am. I rescued the car from it's nasty, yet dry, environment:
...old battery was shot so I fired it up using a lorry battery...wouldn't you know it sparked into life almost before the key was in the ignition.
Having evicted the usual residents, the secret command centre was all mine (aka calm before the storm):
The Engine Before..
Note: this is NOT a good look for a car: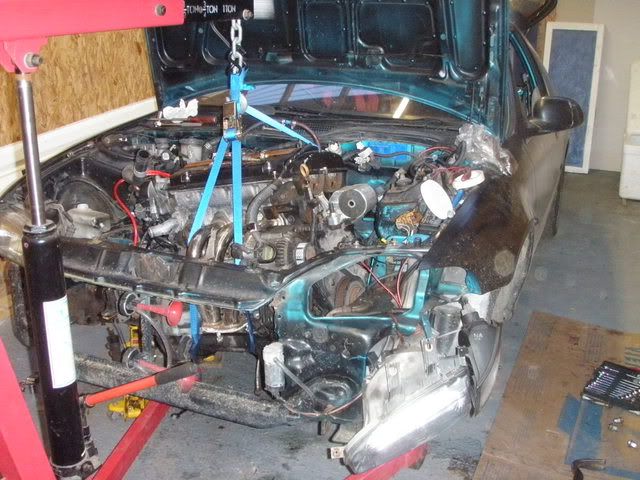 Engine is back in and all shiny now, though: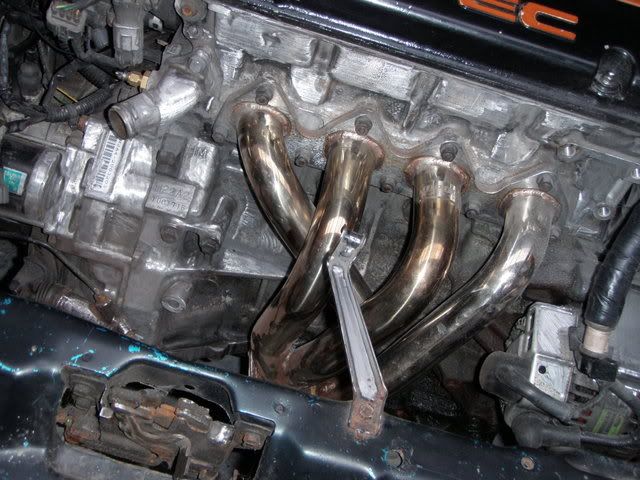 True to form, I even managed a bit more weight saving from the nose - that should make up for the heavier engine :lol: :
bumper still fits..
...engine hasn't fallen out yet....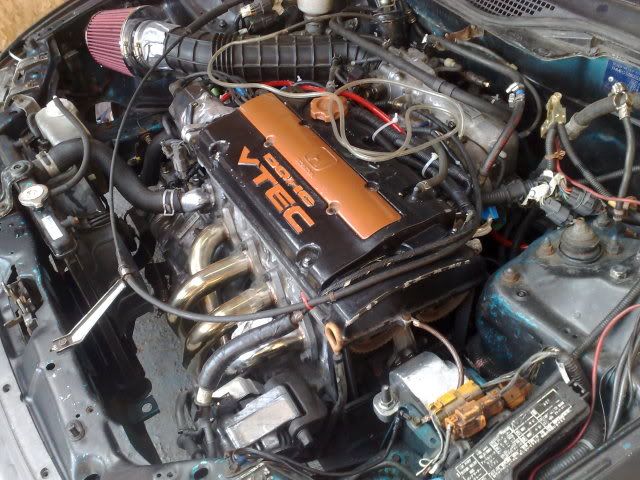 clean, crisp light of day..(after grounding the manifold...doh)
starting up first time
vacuum needs checking!
sounds down right fruity in the metal.
I'm actually surprised at how smoothly it runs - rev hunting notwithstanding...
I'm currently waiting on a few parts to redo the brakes - I've fitted 282mm fronts from a Honda Legend (using MG ZS Discs) and am replacing the rear brake lines because they were totally shot, and I've got a new exhaust section waiting to go on.
The car is pretty substantially stripped out: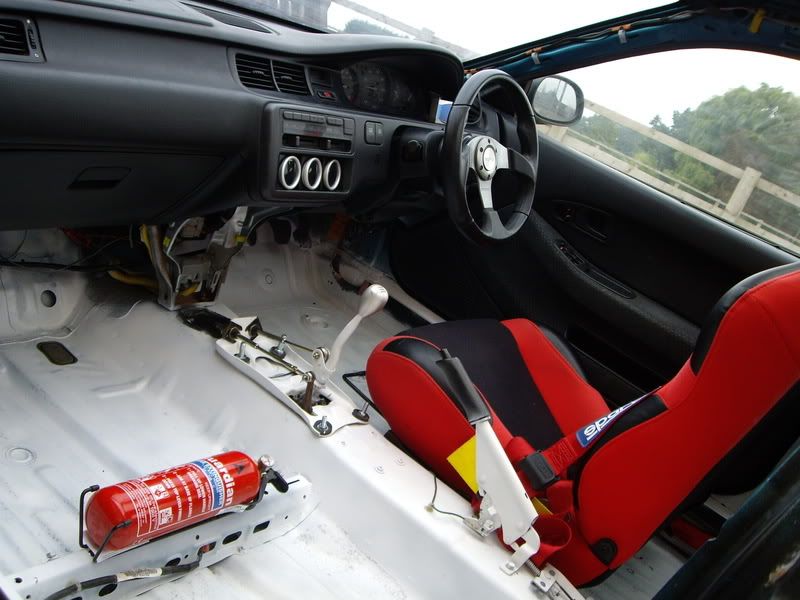 note the shifter linkage, which had to have a big hole cut in the floor because the H22 uses cables where the D16 used rods.
and for comedy value- this is the first time I fired it up:
http://www.youtube.com/watch?v=iC60BPsFuFY
..at which point I realised my cam timing was 180 degrees out at TDC. oops..
So anyway, that's pretty much the build!
It's off to Le Mans (hopefully) in June so in the process of sorting the brakes and exhaust, and giving it a new coat of paint. Oh and a passenger seat :hihi