Discussion Starter
•
#1
•
Due to strong demand I am posting this thread to show you how to post pictures in your threads on Bimmerforums UK.
Firstly, make sure you are in 'advanced reply' mode. So if you selected 'quick reply' ,look below the text window and click on the 'go advanced' button which will take you to a WYSIWYG (what you see is what you get!) editor with more features including picture upload potential!
Ok, now click on the 'Manage Attachments' button highlighted in red below
Now, click on the 'Browse button' in the new window, this is highlighted in red below. Navigate your computer and find the location where the picture you want to upload is stored. Now press the 'Upload' button highlighted in green.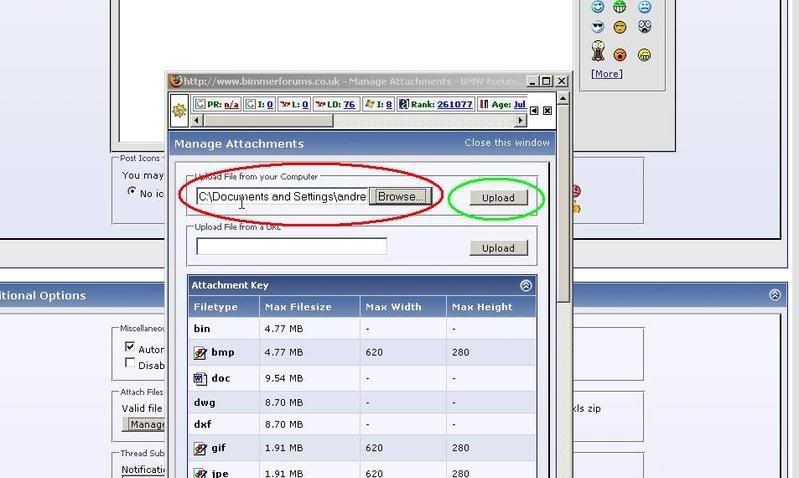 Please don't try and upload huge (filesize) pictures (as in a 5mb high resolution image).... the size limit for each different file extension is listed in the bottom half of this window.
OK, the uploading will take a few seconds usually unless the file is large, once it has uploaded you will see this (the filename will be whatever your picture file is called!)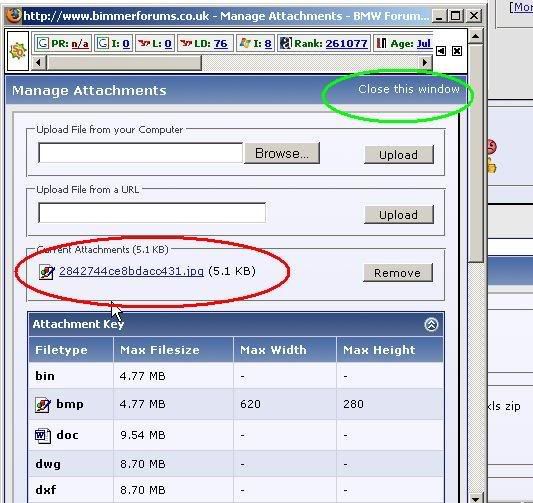 You can upload multiple pictures and they will all show in a list in the format above. If you want to remove pictures you have uploaded just click the 'remove' button next to the offending picture.
One you have finished, click the 'Close this window' link highlighted in the picture above in green.
They will be displayed in preview squares at the bottom of the post, and when clicked on will enlarge to their original size.