I couldn't find any DIYs online for this pretty common issue, so I thought I'd create one on Bimmerforums. I'm sure this guide will apply to any BMW model that uses the N13 engine setup.
Right so over the past month our F20 116i has intermittently shown us a drive train fault message on the iDrive - wonderful.! It wasn't overheating, running rough, in limp mode or anything. Strange.!
A quick scan on ISTA+ produced fault code;
20A608 - Turbocharger - coolant pump, actuation. Pump blocked
.
This is a small electric coolant pump which provides cooling to the turbo, possibly when it's very hot and when you turn the engine off to stop damage from heatsoak. Shame it failed after only 43400 miles / 69850 km..
Here is the parts diagram from RealOEM. The pump cost around £70 from my local stealership -
Part No - 11518616992
https://www.realoem.com/bmw/enUS/showparts?id=1A12-EUR-05-2013-F20-BMW-116i&diagId=11_5013
---------------
Tools you'll need.
Ratchet with E8 External torx socket.
Ratchet wobble joint and small extension.
Flat blade screwdriver.
Pliers or hose clamp.
Fresh coolant.
On to the DIY.!
First yank up the air filter box from it's 3 rubber mountings. Then unclip the cable that runs along the back of the box.
Unplug the MAF sensor and open the hose clamp to the air box with a flat blade screwdriver.
Lift the air box out of the way and move the cable to one side. Now the turbo coolant pump is exposed.
Now, open the coolant expansion tank to depressurize the coolant system. If you don't you'll loose more coolant than you need to when removing the hoses.
Using some pliers open and move back the 2 hose clamps, then unplug the electrical connection.
Next, using a ratchet with an E8 External TORX Socket, unbolt the two M6x16 bolts. The left is slightly under the crank pully, but easy to reach.
Now yank the left hose off the pump and catch the coolant, about 1 liter will come out, then remove top hose from pump.
Remove old unit from the car.
If your car is a manual you'll need to swap over the bung from the old pump. This blanks off a coolant connection used by autoboxes.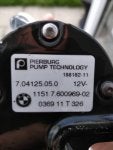 Offer the new pump assembly up to the engine block, fit the two M6x16 torx bolts, these only need to be snugged up. Don't be that guy that snaps the bolt in the engine block.
Slide on the two hoses then re position hose clamps, then fit electrical connector. Reassemble air box assembly.
Top up the coolant via the expansion tank and follow standard bleeding procedure.
Fire up ISTA and clear fault codes, now you're done.!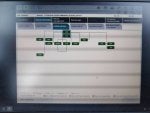 NOTES:
Having inspected the old pump there appears to be no blockage at all, I can only assume failure has allowed coolant into the pump and shorted it.