Discussion Starter
•
#1
•
Hi guys, this is my first post so take it easy on me
I have been a member for a while and used bimmerforums amongst others to help me out with many problems ive encountered on my BMW's over the years so I have the chance to return the favour!
I will try to be as descriptive as possible and explain my thinking so its basic without boring you..
My trouble was with my e93 335i 2007... when pulling back the roof button the windows would drop down, you could hear the roof latches disengage, then nothing else would happen and the button would flash red and my I-drive screen would say Roof System! I could push the top front of my roof and it would separate from the windscreen frame so I could tell the latches had definitely disengaged, but the mechanism wouldn't allow the roof to actually move. I would then have to push the button forward to re-engage the locks and secure the roof with no action..
If you are having trouble with your roof going back check that there is nothing in the way in the luggage compartment and that the convertible tray is pulled down and that your battery has sufficient charge before going any further...
I booked my car in to my local dealership to be looked at (£70 for first half hour inspection plus £££ from any time then on, plus parts, plus labour...) and in the meantime scrolled through plenty of threads I felt didn't apply to me searching for an answer. Lots of people are saying give your roof a push and it should help it open DONT do that, try this first before going anywhere. I came across someone with similar symptoms but in reverse.. Their roof was stuck in the boot, the button would let the boot flip open and ready for action but nothing happened. To solve their problem they paid an indy to source it to faulty roof system 'Salmon colour Relays'
I then found out the system uses two relays for the pump - one for the roof down action and one for the roof up action.. I knew the sensors were all fine because the system was allowing the first disengaging actions but not the actual movement of the roof. I couldn't find an actual write up for the resolution on how to do here so here we go:
Convertible car not being very convertible..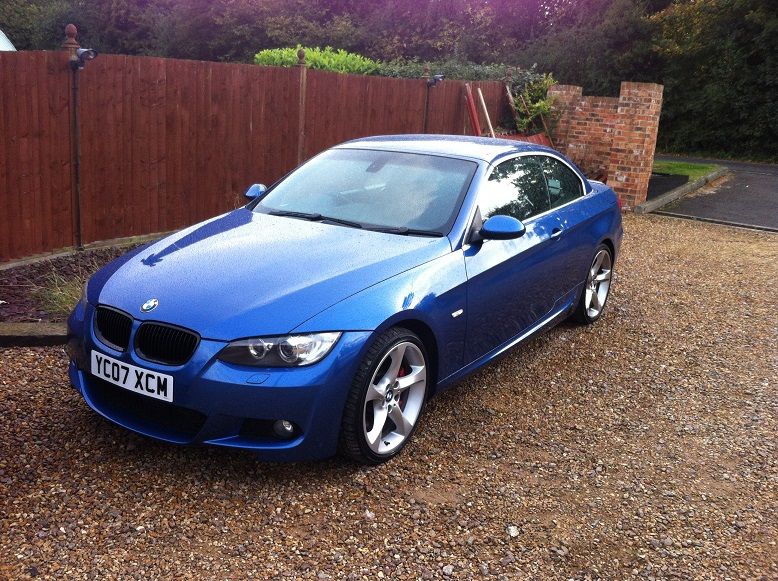 pull back roof button, windows go down locks disengage light is green..
then nothing happens and you get red flashing light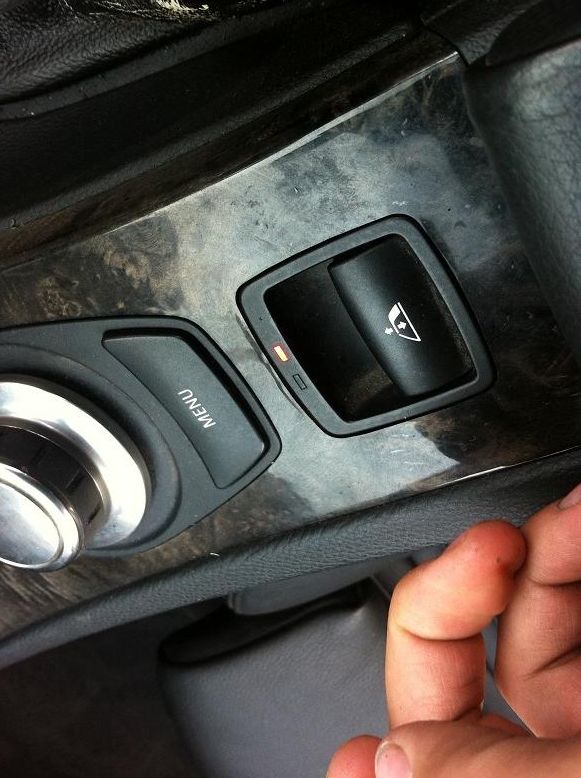 I-drive tells you to check roof system make sure nothing is in the boot compartment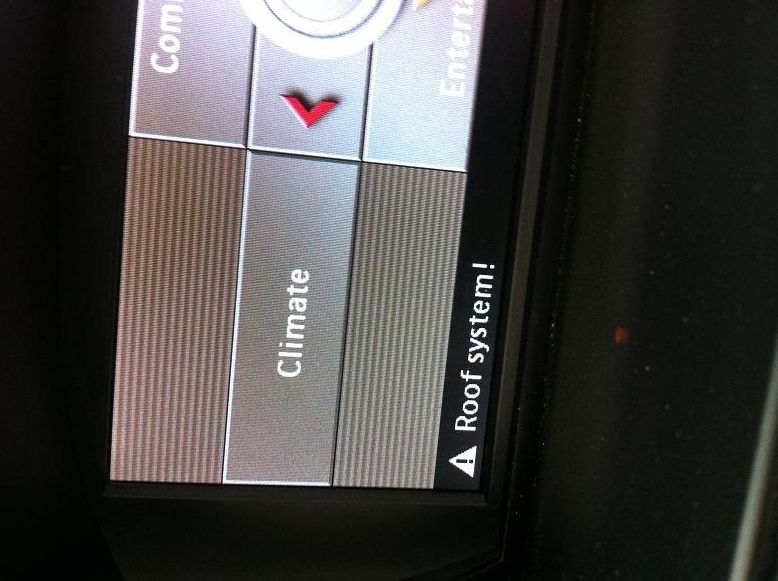 proof the roof is unlocked as it will open...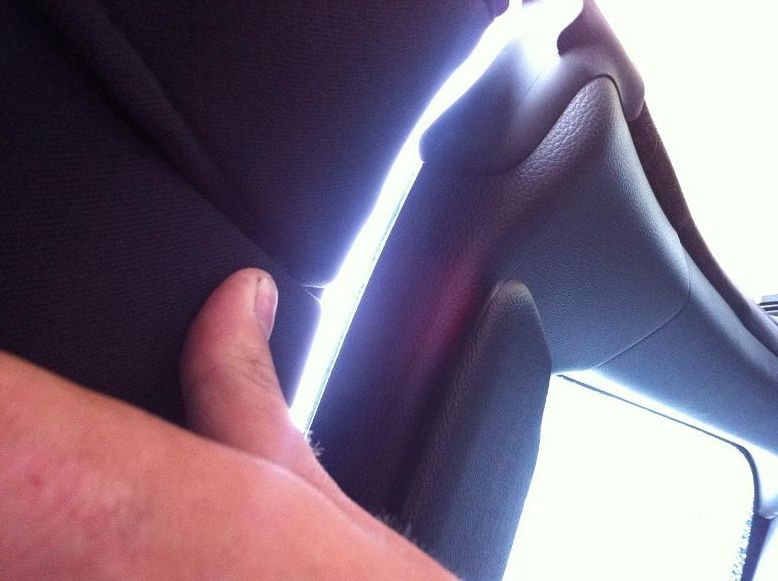 do yourself a favour and buy BOTH new relays (£14 from BMW Part No: B12.63.1.742.690 RELAY known as salmon relay)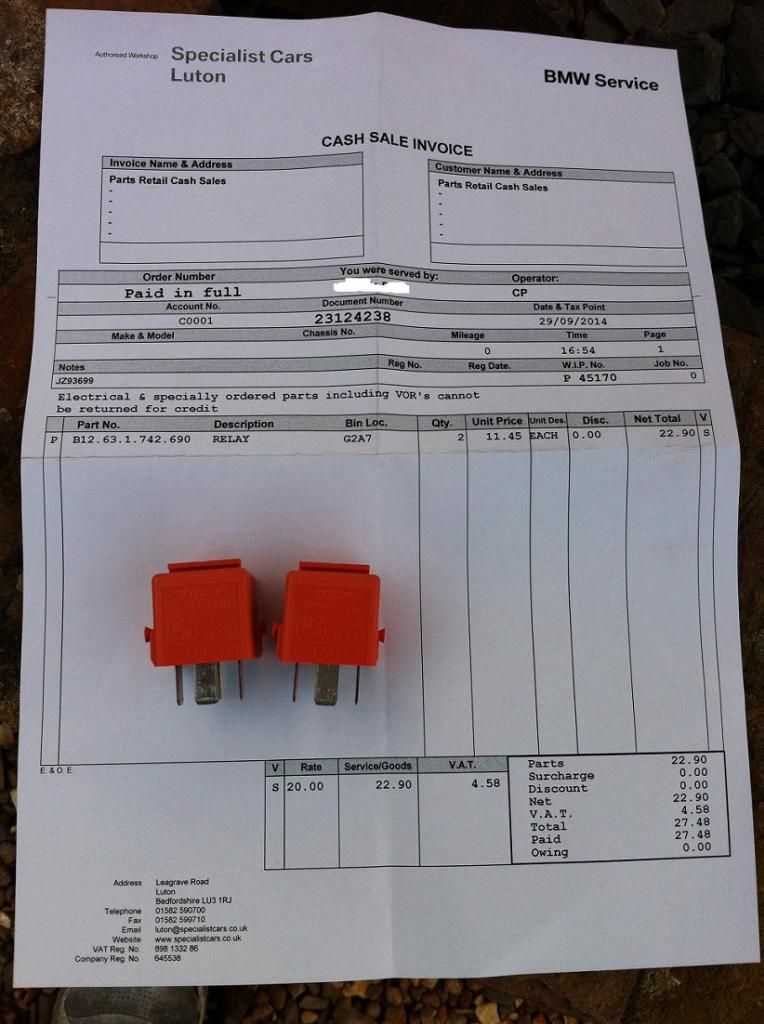 Open your boot
pull off your battery trim panel, undo the 10mm nut on your negative terminal (one closest to you) and wrap it up or place it somewhere it wont touch the terminal (I always disconnect the battery when working on electrics just incase), Lift up the boot floor panel and you will see this pentagon shape panel with 3 10MM screws through it, Undo these and lift off the panel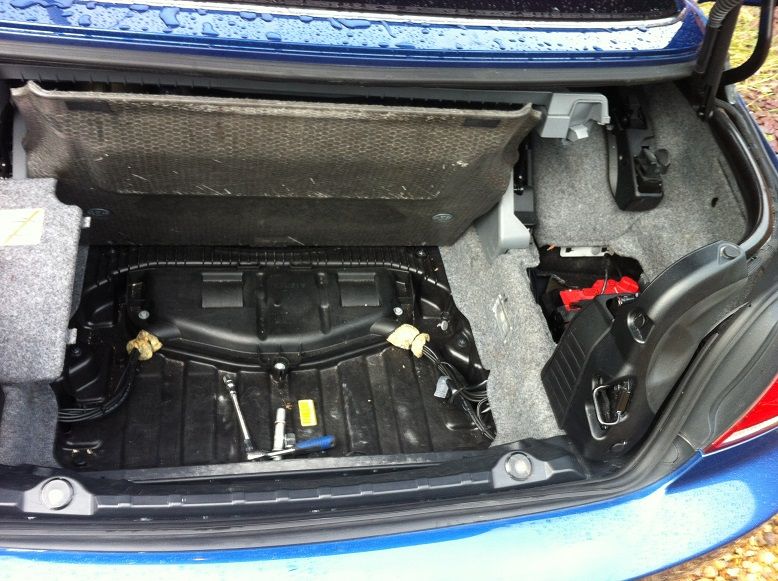 You will then see the convertible roof pump & reservoir etc, and the two salmon coloured relays on the front, just pull the whole unit up for access as it isn't secured down, pop out both the relays and pop your two new ones in..
re-secure the 3 10mm screws through the panel, close the boot floor, reconnect the negative terminal and tighten the 10mm nut, hop in your motor start it up pull back the button and laugh to yourself at how easy it was to fix all that heartache.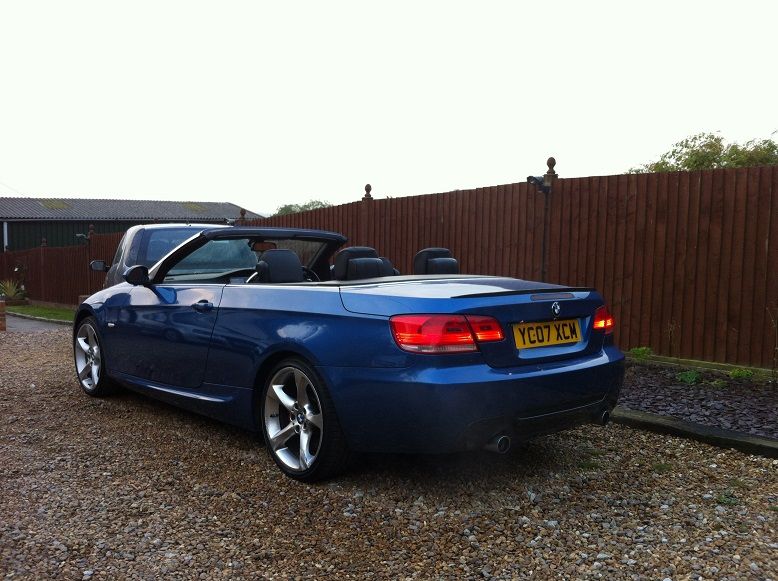 difficulty level - 2/10
Time taken - 5 minutes
Total cost - 28 pound
I wont be held responsible for any damage you cause to your vehicle but this really is a simple job and if you are having roof troubles I suggest you try this first.
Hope this is of help to someone out there :thumbsup
thanks - Alex