Discussion Starter
•
#1
•
Hi guys,
I've been trying to track down an oil leak on my recently acquired E91 (325).
The seller replaced the rocker gasket in a bid to sort, but it's not worked.
Last weekend I got under the car and cleaned everything up as I wasn't sure if the oil was left over from the previous attempt.
Yesterday, I repeated the exercise and found a fair amount of fresh oil on the under tray and on the areas I had previously cleaned.
It's definitely coming from the exhaust side of the engine and I am pretty sure either from behind the water pump or the thing above the water pump.
So a couple of questions -
1. Is it possible for a leak to develop from behind/around the water pump?
2. what is the thing above the water pump? (circled in red on the picture below) Is it the oil pump?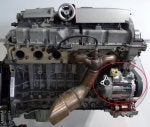 TIA