Discussion Starter
•
#1
•
I would like to share my experience with the N53 engine and how I dealt with all the troubles I had so far.
Lumpy idling and rough running were the first symptoms of the bad injectors in my case. For the first few months car would sound like a bag of nails on the cold startup for the first few seconds, then it was fine.
No error codes or any other symptoms after driving off.
I ignored the problem until the car started throwing Engine Management Light on cold startups and showing Misfire on Cylinder 2 code. Along with Fuel Mixture codes.
Took the car to the BMW specialist and they diagnosed a faulty injector on Cylinder 2. Warrantywise agreed to pay out for 1 injector but this is where their kindness ends.
Garage advised me that replacing one injector is not a solution to the problem and all 6 injectors need to be changed (£1700 job).
After replacing one injector car was absolutely fine for a week. Stady idle on cold startup and no vibrations.
After a week everything went back to where it was. Every single cold startup resulted in EML on, error codes, vibration and rough running.
What's weird is that I got the exact same error codes after replacing an injector on cylinder 2 i.e: misfire on cylinder 2. In my opinion the only way to deal with this is to replace all 3 injectors in bank 1 (cylinders 1-3).
So I ended up buying 2 indexes 11 injectors off eBay and installing them myself.
During installation: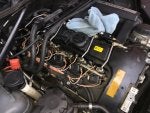 Some oil found?
The car used 1litre of oil in 10k miles so I don't think I've got a major oil leak somewhere?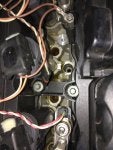 Injector 1 out:
Not too bad for index 8 and 10 years?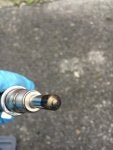 Injector 3 out:
Looks bad and the injector was covered in oil:
I put two new injectors in, coded them using INPA and everything is fine... so far.
The installation process was very easy. Took an hour all in. I used YouTube videos as guidance.
Started the car this morning after 15 hours and in 5C temperature and the idle was steady. Did not move until it reached idling RPM.
This could be temporary so I'll report back here in a week.
To sum up, the car is now running 3 injectors index 8 on bank 2 and 3 injectors index 11 on bank 1.
The main reason I decided to post here is to show that replacing injectors on those engines does not have to mean a £1500+ job.
I know I still have to replace the remaining 3 in bank 2 but even then I'm looking at around £700 for all 6.
Keep an eye on eBay and Facebook because the new injector does not have to be a £160 expense.