Discussion Starter
•
#1
•
I have been experiencing problems with a sticking front passenger door lock on my 2013 520d F11 tourer.
The door button would not fully raise and in makes a repeated open attempt. I got a new one off Ebay for about £25.
The replacement is made by the same company and is identical in every way.
I have made a pictorial guide to help anyone else that has the lock to change. Relatively straight forward and only takes about an hour or so.
Here we go!!
With door open you can see button not fully raised.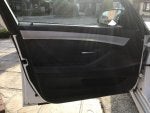 Gently prise upper trim off starting at front end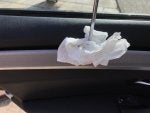 Prise trim back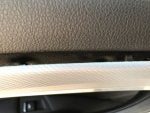 Push spring clip upwards to release
Slide forwards to release rear hook
Prise out inner door handle shroud, start at forward lower edge and gently work around until it pops out.
Remove the Torx 30 screws from behind the door handle shroud, and from behind the area which was covered by the upper door trim.
Prise door panel off, start at lower back end, careful with screwdriver, use a bit of cloth or tissue to stop scratches.
Once a corner is released, use fingers to pop clips out.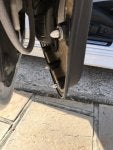 Remove inner door handle release clip at lock end
Remove door button by simply pulling out of clip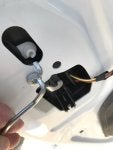 Remove door lock electrical plug by gently pushing each spring clip at the outer ends inwards with a screwdriver.
Remove cable clips on door panel, as well as the window and speaker electrical connections to enable door panel to lay on floor under door with out stretching cables. Might be an idea to lay a towel or something down to prevent scratches etc.
This will expose the foam soundproofing panel which is stuck to the door with mastic. Do not attempt to pull this off as it will tear. Instead, just carefully slice around outer edge with a Stanley knife or sharp blade to cut the seal. Please take your time here as it makes life easier when refitting.
Totally remove and put in boot or somewhere safe.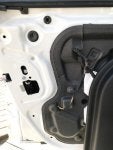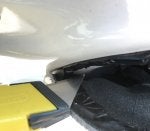 Remove the two cable securing clamps attached to the door lock from inside the door panel.
Remove the 3 x Torx 30 Screws holding the door lock in place.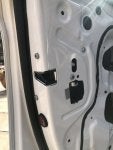 Pull the door lock as it will have adhered to the door panel. With a little play about, extract the lock, complete with outer door handle release cable from the door panel.
Release the external door release cable by pushing down on the release end and unclipping the lower part.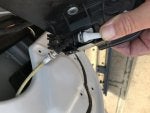 Refit cable just removed into new lock and fiddle around a bit to get it into the door panel.
Move lock into position, ensuring cables not trapped behind it. Refit the 3 x Torx 30 Screws. This is not as easy as it sounds. You will probably need to use the Torx driver to get them started as they seem to have some sort of retaining method which makes screwing them in feel like they are cross threading. If you keep turning and they don't get any stiffer, the chances are that you have correctly fitted them. They will get easier as they bed in further. Once all are nipped up, go round and fully tighten, but don't over tighten.
Ensure you clip the two cable clamps back into the door lock body inside the door panel.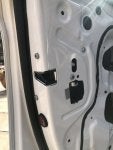 Refit the door button and clip the electrical connection into place. Test the door lock using the remote or internal lock button. Then remove the electrical connection once tested ok.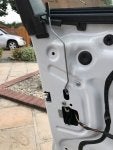 Refit the foam panel, marrying up the mastic previously sliced, ensuring cables go into their correct slots.
Reattach the electrical connection and also refit cable clamps and 2 x connectors into the door panel.
Refit the inner door handle cable release into the door lock.
Refit the door panel by lifting the back end up and sliding the front end in, right up tight against the window. As it comes down at the back end, fiddle with the door lock button to get it through the door panel.
Once all in place line up a couple of the white panel clips to the hole in the door and tap them in using your palm. Once a couple are lined up, the rest normally bang in ok.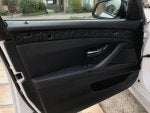 Refit the 2 x Torx 30 screws into the door panel
Refit door trim by inserting back end hook first, then gently manoeuvring it into position ensuring front spring clip goes into its correct hole. Then simply bang into position using palm.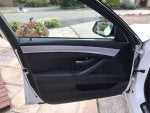 Test door opens, closes and locks, unlocks ok, and that button fully raises, lowers. Using both remote and lock button on dash.
Clean up, tools away and job done!
I hope this helps someone as I couldn't find anything on UK spec BMW's on this subject previously.