Hello
Few days ago my car lost power while I was driving to work and eventually the engine stopped. It would start back up again straight away but stop after 20 to 40 seconds ish.
No fault codes were stored and the way the engine would shudder to a stop got me thinking it was mechanical type fault.
I pulled the vacuum line off the EGR valve and sure enough, no more shuddering to a stop. If I waited until the engine was about to stall and then pulled off the vacuum line, the engine would recover back to idle speed.
I T'ed a vacuum gauge into the hose to the EGR valve and this shows the vacuum building from startup until it is enough to open the EGR valve and the engine then stalls.
Should the EGR be opening at idle ?
My current thinking is that the solenoid valve that controls the vacuum to the EGR is sticking or leaking and allowing the vacuum to build up at the EGR valve.
Slight complication is that with the vacuum hose to the EGR disconnected, the car can be driven but loses power at high RPM. The boost reads 22 psi from about 2000 rpm until just over 3200 rpm when it drops away to about 6 psi.
The boost drop explains the power drop and it seems to happen at the engine speed where the large turbo should be taking over.
I can't think how this could be related to the EGR behaviour ?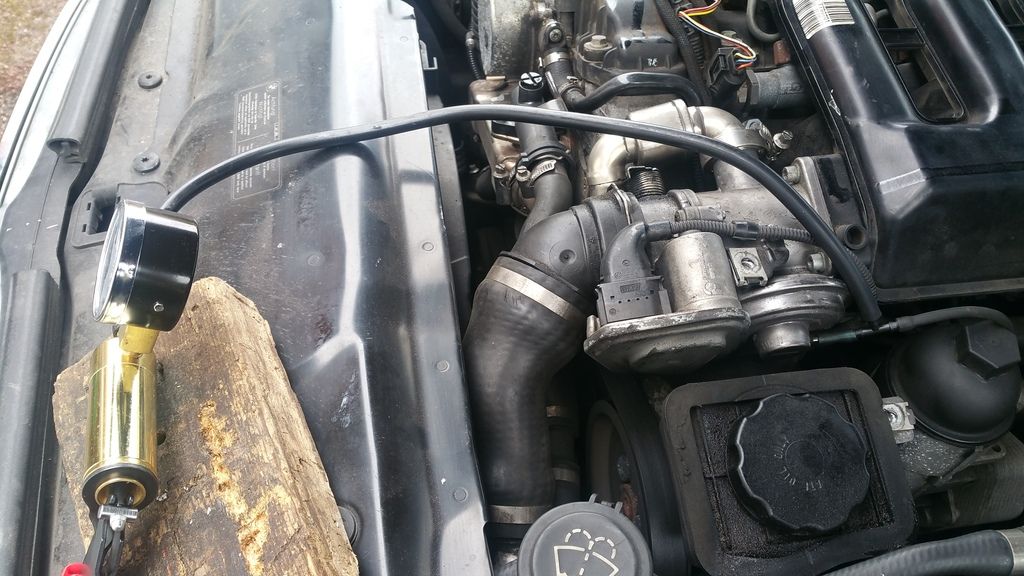 This shows how I connected the vacuum gauge.
https://youtu.be/O0eXkwCrGeM
This video hopefully shows what is happening. When you see my hand I am pressing a button to release the vacuum to show how the idle recovers.
Any ideas would be gratefully received