Discussion Starter
•
#1
•
Hi everyone
Grateful for your thoughts on how to proceed with my ongoing X5 saga.
I recently bought an E53 X5 4.4i on ebay with a few issues, namely:
- Loss of pixels on the mid unit
- Leaking radiator
- Unresponsive heating/cooling controls
- Door lock barrel
Additionally, I've just had to replace the rear air springs, however, I've got everything done or so I thought!
My last job on the list was to replace the FSU in the drivers footwell. Stripped back the carpet panel and the plastic panel under the dash and I was presented with this: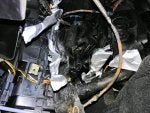 I know there are exposed live wires under there as well as I took a nice jolt of electricity into my right index finger (not the best of smells)!
I am totally at a loss on how to proceed. I've stuck too much into the car to get rid and I'm wondering what your thoughts are on getting this resolved. I'm of course very concerned that whatever melted this lot is still posing a risk.
Absolute nightmare. Unfortunately, the drivers footwell area wasn't high on my pre-purchase inspection list!
Grateful for your thoughts or if this has happened to anyone else out there.