Discussion Starter
·
#1
·
Evening all - newby to the forum....
I own a 1993 Toyota MR2 Turbo which is my weekend toy and up until recently I was using a 1994 Toyota Celica GT to commute back and forth to work.
The Celica cost me £350 2 years ago and has been fabulous but the bodywork is battered from the previous owner and there are some mechanical issues beginning to occur which I dont have time to make good. To cut a long story short - I have just bought a 1995 E36 318is Coupe (M42) with 93k on the clock for £1050 as its replacement. The bodywork is excellent, but the interior is a bit grotty due to the previous owner, but I can sort that.
The Celica was lowered on aftermarket springs and the handling was very good. I knew that the 318is Coupe wouldn't be as quick as the 2.0 Celica, but from what I had read, I expected the handling to be very good, which is why I went for it.
I owned an E30 about 3 years ago which was superb fun on twisty roads and is the main reason I went for another BMW workhorse, however, the first thing I noticed about the E36 is that the body is a bit prone to rolling about quite a bit.
One of the things I read about the E36 was that it was meant to be a really good chassis for handling, so - any ideas on why i'm finding it a bit disappointing - is it comparable to a similar age Celica or am I expecting too much from a saloon? Having said that, the E30 was excellent and the Boss' E46 I have driven was also superb.
Its on bottletop 15" alloys which have cheap tyres and the tyres also have a hell of a lot of side-wall. One thing I plan to do is source some M3 wheels - will this help?
What else could I check / do to improve it?
Thanks
Rob
PS: Some pics for you petrol heads......
MR2
E30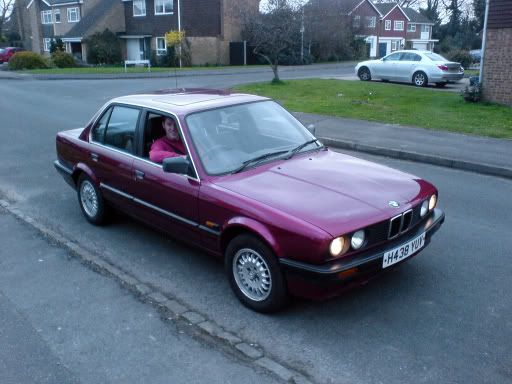 E36
(Ebay pic - more to follow)